DUAL's Accident and Health claims are handled by specialist third party claims handlers with significant industry experience. Our claims handlers specialise in different products and work directly with DUAL to ensure all claims are handled in an expert manner.
Our Third Party Claims Handlers include:
Fullerton Health Corporate Services for all general non sport Accident and Health including unique and specific clients
Cunningham Lindsey for our Sports Accident and Health Claims
If you or your client require emergency assistance please call DUAL Assist via 24/7 Emergency Hotline. To place a reverse charge call, contact the local operator and request to be put through to: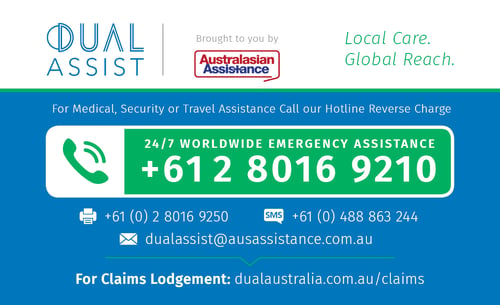 For all non emergency claims advice during AEST business hours contact:
Fullerton Health Corporate Services (non Sport):
t: +61 (2) 8256 1770
e: claims@fullertonhealthcs.com.au

Cunningham Lindsey (Sport):
t: 1300 723 690
e: sports@cl-au.com

Further details are available on our claim forms.