New Wordings now LIVE!
Our new Management Liability Wordings are now available. Some of the Key coverage enhancements include:
Broadened Statutory Liability cover to include criminal penalties (where not prohibited by law)

Crime Investigation Costs extended to costs for establishing and proving Direct Financial Loss

NEW Panel Counsel Extension - 1 hour of free advice for each enquiry relating to the risks insured

Extended Continuous Cover – cover for late notified Claims, even if DUAL were not the Insurer

Triangulation Fraud Extension
DUAL Appetite & Key Coverages
Our three offerings have been specifically designed to protect SME and micro SME businesses with respect to the management risks of operating a business in today's often complex and litigious world.
Not all Management Liability offerings are the same, and it's important to recognise the differences between insurer's products, and the impact of these differences for clients. DUAL's Management Liability suite offers broad coverage including high sub-limits and competitive premiums with all policies automatically providing cover for:
Key Elements of Cover
• Directors & Officers Liability
• Company Reimbursement
• Employment Practices Liability (EPL)
• Crime
• Tax Audit
• Statutory Liability
• Occupational Health and Safety Defence Costs
• Trustee Liability
• Whistleblower Cover
Instant quotations can be created through the WebRater.
Management Liability
DUAL's Management Liability suite is made up of three offerings. Click to be taken to the full Product page for more information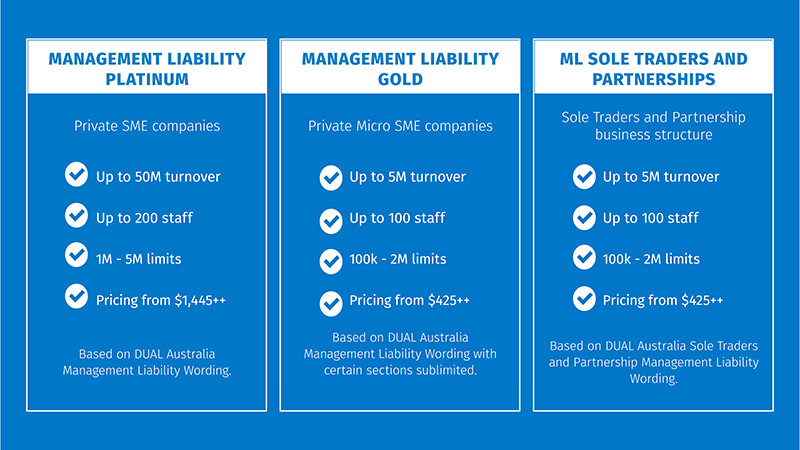 Preferred Risks:
Professional Services (incl. Accountants, Real Estate, Engineers, IT)

Manufacturing

Media (incl. Printing, Publishing, Entertainment)

Medical

Retail

Services (incl. Community Services, Call Centres, Beauty Therapy)

Tourism and Hospitality (incl. Cafes, Restaurants)

Trade Services (metal, wood, electrical and automotive)
Usually Declined:
Adult Entertainment / Tattoo Parlours / Brothels

Aged Care / Retirement Village / Nursing Homes

Amusement / Leisure Park

Gaming Activities (Racetracks / Casinos / Betting Agencies)

Telecommunications Provider
Wording
All Wordings are LIVE on the WebRater so get quoting today!
Please Note: Any DUAL New Business quote generated on or after 1st October 2021 will have terms issued on the new wordings. The WebRater - Accelerating Productivity