What's covered?
DUAL's Cyber Liability and Privacy Protection policy provides the following key elements of cover:
Third Party Claims - covers the Insured's liability to third parties from a failure to keep data secure, such as claims for compensation by third parties, investigations, defence costs and fines and penalties from breaching the Privacy Act.

First Party Costs - reimburses the Insured for the costs they would incur to respond to a breach, such as IT Forensic Costs, Credit Monitoring Costs, Public Relations Expenses and Cyber Extortion Costs (including ransom payments to hackers).

Business Interruption - this section provides reimbursement for the Insured's loss of profits resulting from the breach, as well as any additional necessary expenses it may need to incur to continue business as usual.
Social Engineering, Phishing and Cyber Fraud Cover
54% of businesses who have experienced a cyber-attack had fallen to an email or phishing scam[1].
DUAL's Cyber offerings can be extended for an additional premium to include Social Engineering, Phishing and Cyber Fraud cover (subject to underwriting criteria being met).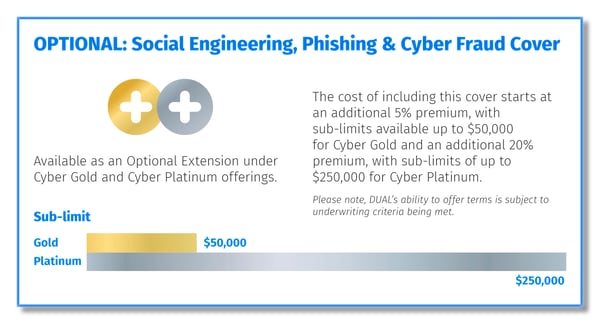 Ease of transaction
DUAL's Cyber product suite is available on the DUAL WebRater. The WebRater is a full policy life cycle online platform, which allows brokers to obtain instant Cyber* quotations and bindings 24 hours a day, 365 days a year.
*Selected industries are excluded from the WebRater and will require manual underwriting through the branch.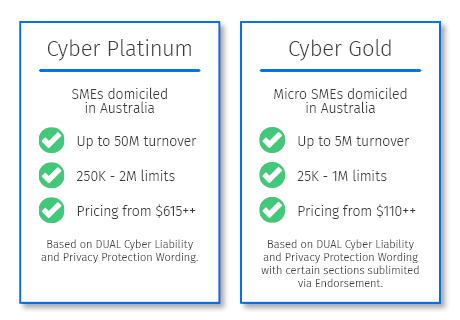 To review our product offerings in more detail please click here for Cyber Gold or here for Cyber Platinum.
Please contact your local Underwriter for a copy of our comparison profile which provides a detailed comparison of the different coverage available under Cyber Gold and Platinum.
[1] Norton SMB Cyber Security Survey 2017.