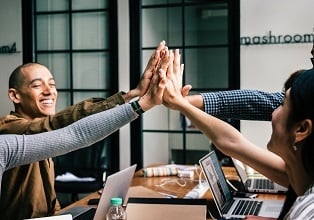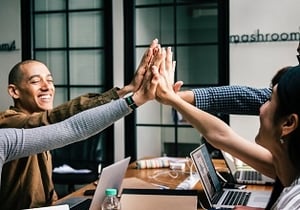 Teamwork comes with challenges, especially in a busy brokerage, but it also comes with hard-to-beat benefits. We share how you can inspire efficiency, productivity and sustainable collaboration in your brokerage without micromanaging the process.
Break down traditional hierarchies
According to the Institute for Corporate Productivity, collaborative work environments tend to lead to high performing outcomes. People also tend to work harder, and for longer, when they feel like they're a part of a team. To reap these benefits, your brokerage will have to break down traditional business silos and embrace horizontal forms of relating, in which employees and colleagues practice mindfully and with equal and high degrees of self-discipline.
There are simple ways to encourage the shift from a culture of division and competition, to one of collaboration. The most powerful "quick-win" is to embrace the benefits and possibilities of cloud-based digital collaboration platforms.
Embrace the cloud
Not all organisational changes need to be massive, especially when it comes to integrating the cloud into your daily routine. Apps such as Any.do are useful bite-sized additions to your technological toolbox that go a long way to shift the workplace mindset and encourage collaboration. Any.do is an organiser that allows you and your team to share to-do lists on tasks and to know who is working on what part of each project, on-the-go. From as little as AUD$2.90 per month, you'll have an apparently informal way to make a big professional difference.
Allow for feedback (and do something about it!)
Improving staff experience can be as easy as allowing for feedback between management and staff, and between teammates. While you may be using it already, Google Docs is one example of a tool, that can serve as the simplest, most powerful shift in the way you work as a team. The usual suite of cloud-based word-processing and presentation-making software allows multiple people to work on a single document together. Meanwhile, Google Forms allows you to easily collect feedback from your team by customising a drag-and-drop template. Insights gained from these anonymous surveys can then be used to continuously improve the teamwork experience.
Don't shy away from specialist tools
There are certain tools developed especially to make brokers' lives easier. One of these is DUAL's WebRater. Designed to bring insurance teams into alignment and support individual brokers to be more efficient, WebRater is an online trading platform that allows you to create a quote and bind a policy in less than 2 minutes; 24 hours a day, 365 days a year. Now you and your team can spend your time focusing on the things that matter.
Learn more about how the WebRater can help you save time and get in touch with DUAL today.