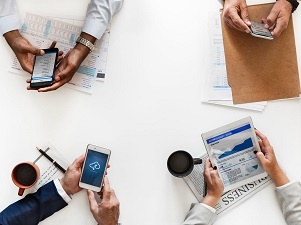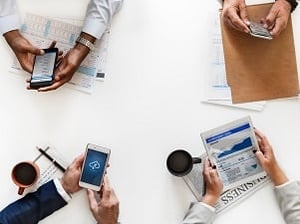 When you're heading up a busy brokerage, it pays to remember that sometimes the unlikeliest partnerships lead to remarkable gains. We're used to thinking in linear terms, but if there's one thing projects like Freakonomics demonstrates, it's that thinking laterally can lead to mindblowing solutions.
During the fast-paced working day, it's easy to feel overwhelmed and fatigued — especially if you're aiming to grow your professional life without sacrificing quality family time. We share how four seemingly unrelated lifestyle apps can help you remain calm inside the storm of daily living.
Expand your mind with Headspace
No amount of effort will help you achieve your business goals if you're unable to focus. Mindfulness apps like Headspace help you set aside just five minutes per day for guided meditations that mean you're soon able to set your stress aside and concentrate fully on the challenge at hand during the day. Far from being a hipster's latest trend, mindfulness-meditation is even being studied by Harvard Medical School because of its positive effects in treating depression and anxiety. Giving yourself some head space, means you'll be able to meet anything your day throws at you with a clear head — making you that much sharper at business and play.
Chase rainbows with Colorfy
If meditation isn't your thing, you could tune out the noise with apps like Colorfy. Even if you find the daily commitment of apps like Headspace too demanding, it still pays to know you have a calming aid in your toolbox for when times get rough. Stuck in traffic or losing your cool in an endless meeting? Colorfy gives you instant access to templates you can colour-in to "tune out the noise" for a while — giving your brain the break it needs before re-engaging with what's on your plate. The best part is that this app is also child-friendly, and handy for those moments you're stuck without a babysitter while there's business to attend to.
Multitask with Vanido
We know that it can't always be fun and games. Sometimes, taking too much time out from what needs doing can only make you feel worse. Once you've restored calm with Headspace and Colorfy, it's time to multitask and take up activities that help you relax while simultaneously improving your business profile. Vanido might be just the thing. According to Forbes, first impressions count — especially in business. Vanido allows you to groom your voice for those all-important personal and telephonic encounters with fun, basic singing exercises. With Vanido in your toolbox, you'll be raising your voice in confidence at meetings in no time.
Stay Mobile with WebRater
Nothing beats the aid of an industry-specific tool. DUAL's WebRater helps you obtain quotes and bind policies within minutes, even while on-the-go. This online trading platform is available 24/7 and covers insurance policies for numerous occupations, ranging from Cyber Liability to Professional Indemnity. Now you don't need to worry about losing out on a lucrative client while you're tied up elsewhere.
These four unlikely apps working together are sure to add a sustainable boost to your business by focusing on the person at the heart of it — you. To learn more especially about how WebRater can help you save time and improve your efficiency as a broker-specific tool, visit the DUAL Australia page and begin reaping the rewards today.