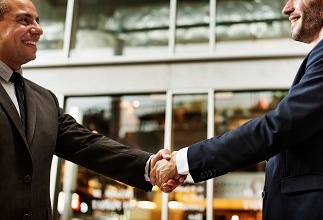 Client-facing work can sometimes leave you feeling like you're stuck between a rock and a hard place. On the one hand, you're a normal human being with a right to privacy; on the other, you understand that transparent processes are ethical ones, especially in business. Transparency also makes building trust with clients easier. While it's normal to feel vulnerable sharing work-in-progress, there are ways to strike a balance between building the trust that transparency allows without feeling that you risk being caught unprepared.
Here are some tips on how to manage client expectations, build trust and maintain
reasonable boundaries that help you put the best foot forward:
Tip 1: Share personal facts strategically, or, The Principle of Whip It Out (Only) When You Need It
Resist the urge to share what you had for breakfast. Limit yourself to only "spilling the beans" on things that are relevant to your professional relationship. It's vital to build personalised relationships with your clients, especially in insurance and other client-facing work, but you'll limit potential damage to your image if you mindfully a) keep the sharing of personal information to the bare minimum and b) only share the things about yourself that help put the client at ease. Never lie, but also only share your vegan intersectional feminist politics with those clients who would appreciate the information and trust your professional ability because of it.
Tip 2: Manage client stress, or, The Principle of Tell Them What to Expect and When
People find experiences less stressful if they know what to expect. Keeping clients happy often comes down to the simple task of sharing with them where you are in your process, and when they can expect an outcome. For example, if a client expects you for a meeting, they'd be more open to whatever you propose if they know exactly when to expect you. A location-sharing app like Glympse allows you to manage their expectations and set them at ease by sharing your route and your in-transit progress over a brandable shared connection.
Tip 3: Remain Authentic and Sincere
Take some advice from Morcheeba and Just Be Yourself. Strategically, though (remember Tip 1). People trust what they can relate to, so the more you have in common with someone, the easier they'll find it to relate to you. But this relies on you being you! Authenticity in your daily interactions requires a high degree of self-management. Developing a sense of when it's useful to share what you had for breakfast, for instance, takes practice. Luckily, mindfulness apps like Trixie turn this training into bite-sized chunks that will upskill you while blending seamlessly into your day.
The key to lasting success is to integrate each new tip in bite-sized ways. Specialist time-saving tools such as DUAL's WebRater go a long way to clearing space in your schedule to allow for fresh changes, while helping you deliver the best client service possible. Learn more today.